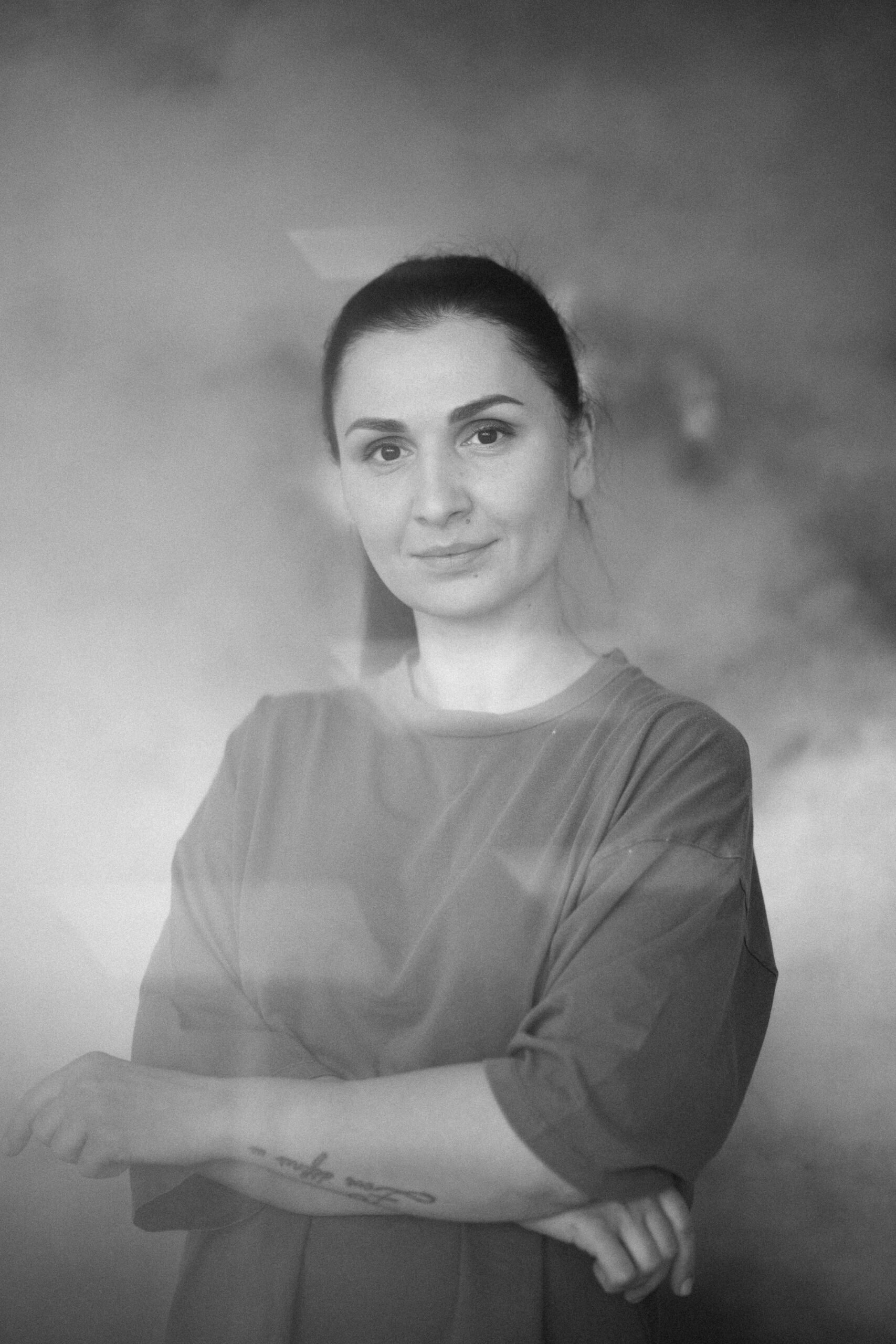 Larissa Uvarova – modern Ukrainian artist. The direction of her art is abstraction. She creates her artworks with oil on canvas and sometimes mixed media. She believes that painting is primarily an energy and it should be a source of strength and inspiration for the viewer. The painting is just the guide between the artist's feelings and the viewer. Larissa inspires the world around her, filters her observations through her feeling, and then creates a new abstraction. She prefers to create on big formats of canvas.
All her paintings are multilayered regardless of the way they were created: whether ironed with a brush or structured with a palette knife.  Each artwork is full of paints, transitions, and shapes. It always contains a lot of energy even when it is a romantic, smooth painting, created with a brush.
She has been exhibiting her artworks since 2012 in Ukraine and Europe.
Exhibitions:
 1. 19.09.2012 -29.09.2012 – Exhibition in the National literary museum, Kiev, Ukraine.
 2. 02.12.2012 -23.12.2012 – Exhibition in the museum of Russian art "Chocolate house", Kiev, Ukraine.
 3. 12.02.2015 – 14.03.2015 – Exhibition "Four seasons: chocolate symphony" in the Kiev City Museum "Spiritual Treasures of Ukraine", Kiev, Ukraine.
 4.  21.04.2017 – 01.05.2017 – Exhibition "Feelings" at Spivakovska Art: Ego Culture Centre, Kiev, Ukraine.
 5. 17.06.2017 – Exhibition in European Business Association and Aspen Institute, Kiev, Ukraine.
 6. 16.09.2017 – 24.09.2017 – Exhibition "White party" at Spivakovska Art: Ego Culture Centre, Kiev, Ukraine.
 7.  02.11.2017 – 12.11.2017 – Exhibition "We contemporary 2017: Ukraine edition" dedicated to the launch of the catalog curated by the MUSA International Artspace at Spivakovska Art: Ego Culture centre, Kiev, Ukraine.
 8. 13.04.2018 – 17.04.2018 – Exhibition "Woman's essence show by MUSA", Madrid, Spain.
 9. 21.06.2018 – Exhibition in UBI Conference Hall, Kiev, Ukraine
 10. 12 – 14.10.2018 – Exhibition "We contemporary 2018" curated by the MUSA International Artspace, Palermo, Italy.
 11. 01.11.2018 – Exhibition "We contemporary 2018: Ukraine edition" dedicated to the launch of the catalog curated by the MUSA International Artspace at Spivakovska Art: Ego Gallery, Kiev, Ukraine.
 12. 04 – 12.2018 – SOLO Exhibition "From the Deep" in Spivakovska Gallery, Kiev, Ukraine.
 13. 10 – 17 May, 2019 Woman's Essence Show concomitant event official pavilion of Bangladesh 58th Venice Biennale. Palazzo Zenobio, VENICE